Thurs. August 24, 2017 - 6:30 p.m.
Oak Leaf Trail at Estabrook Park
---
Join us for the 2nd Annual Pretzel Run!
The Pretzel Run is a 5K run and 1.5M fun run/walk hosted by St. Robert School in Shorewood, WI. Run proceeds will benefit the school's 300+ students in pre-K through 8th grade. This event is a great opportunity to advance your health, socialize, and support an award-winning school! A family-friendly post-run social will be held at the Estabrook Beer Garden and playground. Please join us!
CLICK TO REGISTER!


​
5K Chip-timed Run
1.5 Mile Fun Run/Walk
Kids Pretzel Dash (ages 8 and under)
Registration

Each registered participant will receive a run t-shirt, a freshly baked soft pretzel, a chocolate covered pretzel, as well as other food at the finish line. 5K participants will also receive chip-timed run results.
July 1 - August 14 $30

August 15 - August 24 $35

Race Day $40

Kids Pretzel Dash $15 (Ages 8 and under)

All ages are welcome! Strollers are permitted.

​
Schedule
5:00-6:15 Same Day Registration - Final Packet Pick Up

6:30 5K Run and 1.5 Mile Fun Run/Walk

7:30 Kids Pretzel Dash

* Packet pick up is on Wed., August 23 between 3:00 - 7:00 pm at Performance Running Outfitters, located at 4533 N. Oakland Ave, Shorewood, WI.
Register Now!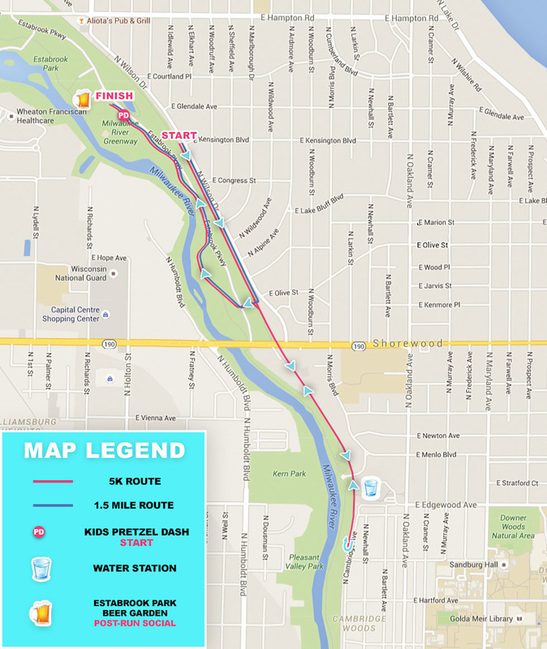 Location
Oak Leaf Trail at Estabrook Park
4600 Estabrook Park
Milwaukee, WI
Both run distances will start just south of the Estabrook Pond on the Oak Leaf Trail and finish at the Estabrook Beer Garden.
Free parking is available in the lot immediately adjacent to the Beer Garden, in the lot south of the Estabrook Pond, or along the west side of Estabrook Parkway.
---
Awards
Overall first place male and female participants will be recognized and receive a Performance Running Outfitters gift card. The top three male and female 5K finishers in each age category below will receive medals. In addition, all children 12 and under who run or walk either the 5K, the 1.5 mile route or the Kids Pretzel Dash will receive participation ribbons.
12 and under

13 – 16

17 – 19

20 – 29

30 – 39

40 – 49

50 – 59

60 +
Why is it Called the Pretzel Run?

The Catholic Church played a leading role in the early history of the pretzel. Around A.D. 610, European monks developed a Lenten "bread" twisted in the shape of crossed arms which were the traditional posture for praying. The pretzels were ideal for Lenten eating, as during that period, dairy and eggs were prohibited during Lent, and pretzels were made with a simple mixture of water, flour and salt. As the custom spread through medieval Europe, the pretzel's three holes came to represent the Holy Trinity, and the twisty baked good became associated with good luck, long life and prosperity.
Special Thanks to Our 2016 Sponsors!
Silver Sponsors
Bronze Sponsors
Valued Sponsors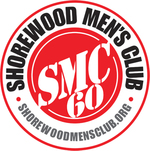 Food and Beverage Donors
Sponsorship Opportunities
For sponsorship opportunities and all Pretzel Run inquiries, please contact us by emailing
pretzelrun@strobert.org.